Front and rear bumpers are more than just aesthetic; they serve a purpose. These components are in place to add clearance as well as protect the important parts of your vehicle. The factory bumpers, however, can leave a lot to be desired and aren't built to always handle everything that may come your way. In this case, the aftermarket is your saving grace with a virtually endless array of bumpers made from different materials with various integrated features for the ultimate blend of styling and practicality. For the Jeep Wrangler JK, there are several high-quality bumpers for the front and rear end that boast strength, protection, and off-road functionality to keep your Jeep body safe from the elements and looking good for longer.
So, whether your bumper is damaged from your off-road ventures or you are merely looking to upgrade, Vivid Racing carries an attractive assortment of bumpers for the JK Wrangler. Below, we have listed the top 8 bumpers for the third-generation Wrangler to help you along in terms of outlining some of your best options. With highly durable constructions, rugged aesthetics, and the ability to accommodate additional accessories, these front and rear bumpers will take your Jeep Wrangler up a notch without ever having compromising looks for performance.
1. Motobilt Front Stubby Bumper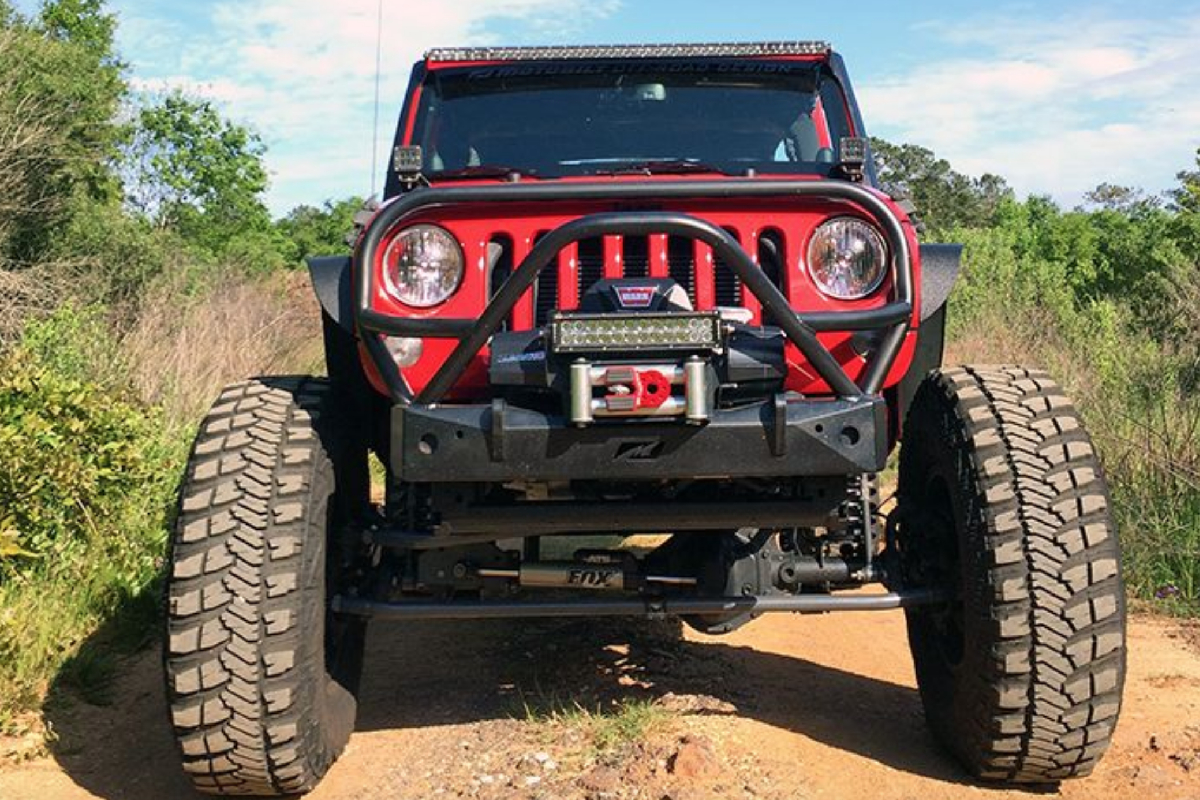 The Motobilt Front Stubby Bumper will take your Wrangler JK to the ultimate level. This front bumper is loaded with extras like a grille hoop, stinger, connectors, and fairlead mount. Those goodies are just part of the reason why this Motobilt front bumper is the brand's best-selling JK bumper (fits the JK and JK Unlimited). It is designed to provide your Wrangler with a tight-fitting, sleek upgrade to replace the boring factory bumper. This bumper was 3D CAD designed to ensure the best fitment possible and CNC cut for added precision. The tube work is fabricated from 1.75-inch by .120-inch DOM round tubing. The bumper itself is manufactured from a 3/16-inch thick high-strength steel plate.
The bumper was designed using the latest in 3D CAD technology and CNC cut for precision as well as a simple installation. The holes at the end of the frame need to be drilled out to 5/8 of an inch and the rest just bolts on. The bolts are hidden, making for a clean look after installation and the D-ring mounts pass through the bumper and are welded to the mounting plates to offer superior strength to the recovery points. If you are using a WARN ZEON winch, you will need a 3/16 of an inch steel spacer under the fairlead mount. This front bumper is shipped in its bare metal state, so it is up to you to choose paint or powder-coating and apply it to the color of your choice.

2. Tyger Auto Fury Front Bumper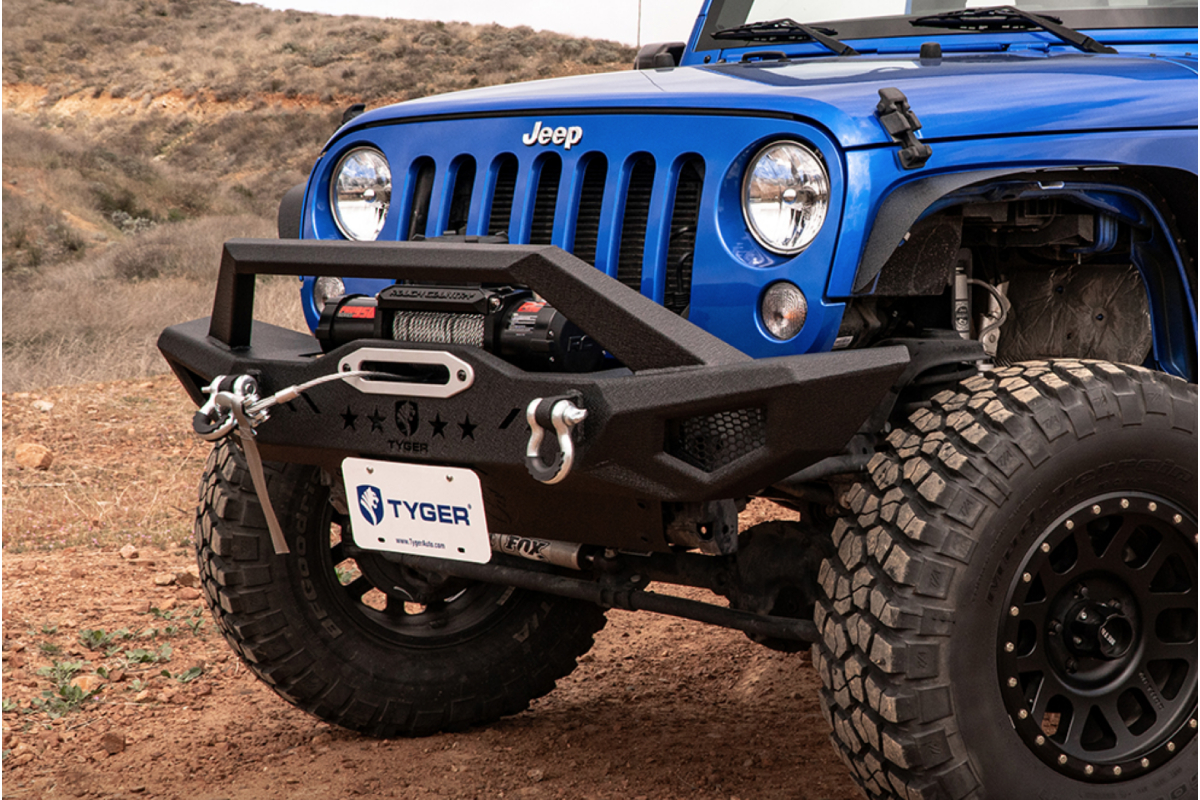 The Tyger Auto Fury front bumper will make your Jeep Wrangler JK stand out from the pack both on and off the road. Tyger Auto is well-known for its comprehensive line of off-road parts and accessories that deliver innovation, quality, durability, functionality, and styling to market. The Fury front bumper for the Wrangler JK is a solid buy that will transform your rig's overall appearance while also providing the utmost practicality. Manufactured from heavy-duty 5mm carbon steel, this front bumper is also powder-coated with a textured black finish for extreme rust resistance and protection against the elements no matter where you take your Jeep.
The Tyger Auto Fury front bumper comes with an integrated winch plate, welded D-ring mounts, a skid plate, and a license plate bracket. It also allows you to install up to 22-inch middle light bars and up to 3-inch side light pods for extra illumination. This bumper is vehicle-specific with a simple bolt-on installation that requires absolutely no drilling or welding with easy-to-follow DIY instructions in the box. Tyger Auto focuses on developing premium aftermarket parts that meet and/or exceed OE standards and so this bumper, like all of its products, is covered by a No-Hassle warranty.

3. DV8 Off-Road Steel Mid Length Front Bumper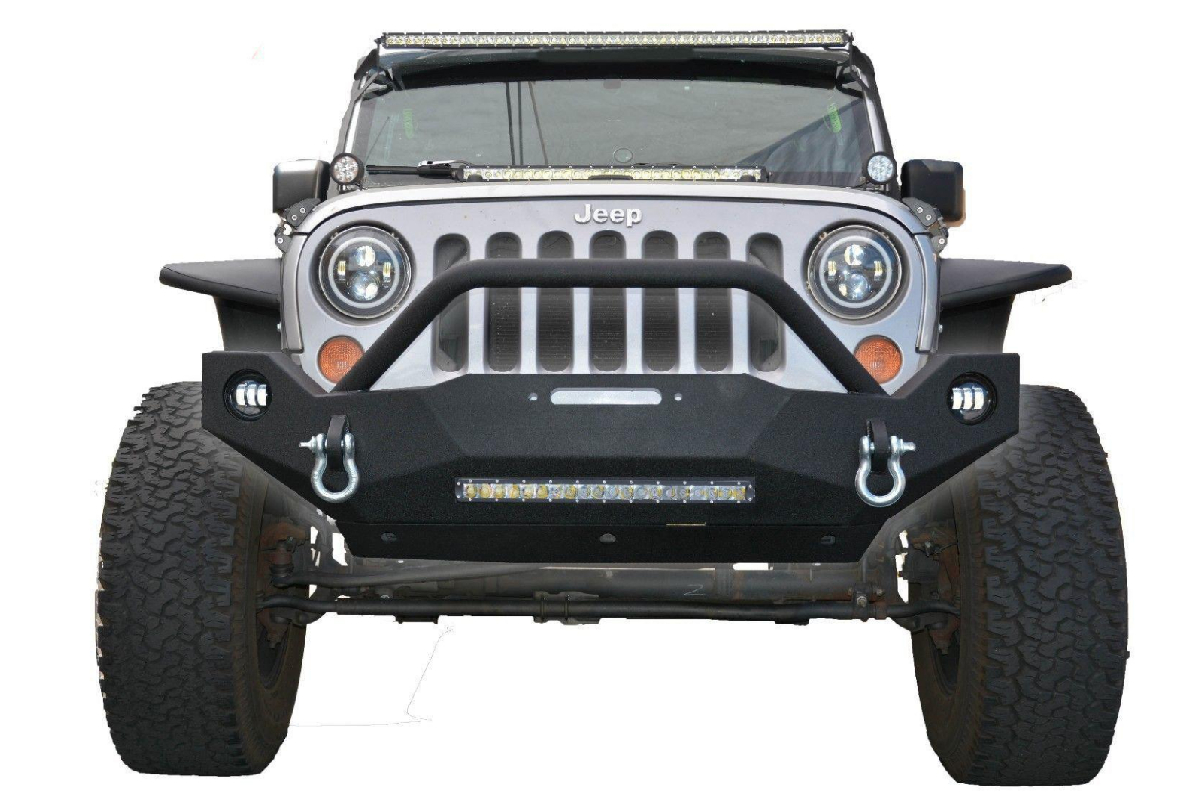 The DV8 Off-Road FS-19 front bumper for the Wrangler JK is a bumper worthy of the King of Hammers racing. Designed with hardcore wheeling in mind, DV8's Hammer Forged front bumpers boast the perfect blend of style and protection. This bumper was designed to perform on the rocks where you need the most safeguarding. All Hammer Forged front bumpers have heavily reinforced winch plates, great approach angles, and are made of thick high-tensile strength steel. The steel thickness of each part of the bumper was specifically chosen to keep weight down and durability up. Certain sections are crafted from ¼-inch steel and the rest are made up of 3/16-inch steel – depending on the amount of abuse that each portion is likely to take. The result is a lighter and much stronger front bumper that is ready to take on anything that comes your way.
Not only does this bumper perform exceptionally well, but it looks great too with a durable, textured black powder coating that works to resist UV fading and chipping to keep it newer for longer. The high angle on this mid-width bumper offers superior off-road protection while still allowing greater approaches than a full-width bumper. These heavy-duty steel bumpers also have all the bells and whistles you'd want, like sturdy D-rings, fog light holes, a tough stinger, winch plate, and space for a light bar. The bolt-up skid plate protects your steering components, the integrated winch mount system allows for full-size winches, and the provisions let you hook up the factory fog lights as well as an additional 20-inch light bar for added visibility on the trails.

4. Addictive Desert Designs Front Bumper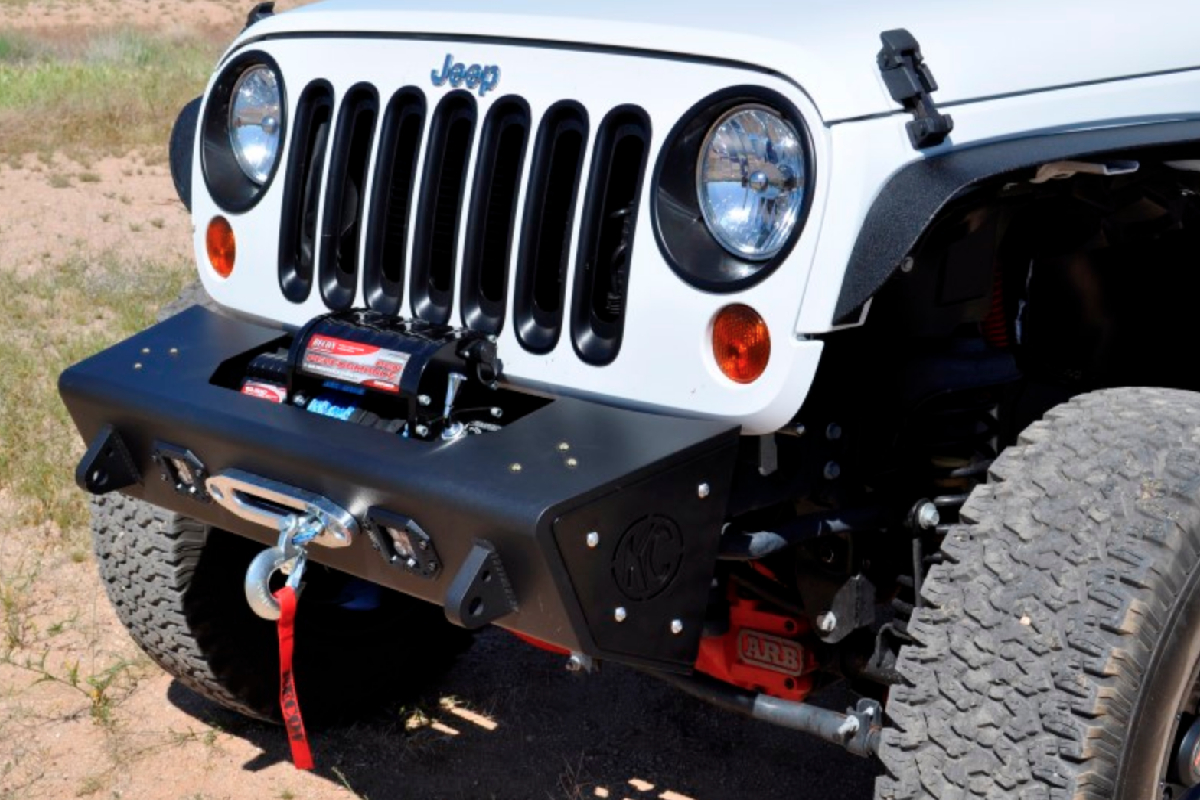 Give your Jeep Wrangler JK the ultimate facelift with the Addictive Desert Designs Stealth Front Bumper. Addictive Desert Designs pushes the limits when it comes to manufacturing quality Jeep parts that are both highly purposeful and visually appealing. The Stealth Front Bumper is among the toughest front bumpers out there you could buy. It features a .120-inch wall steel tube construction with a tough powder-coated finish to further protect it from the elements. The modular design includes a winch mount, tow hooks, two KC flush light mounts, and mounting hardware. Available in both a front and rear version, the Stealth Fighter bumper blends protection with sleek styling and functionality.
This bumper was handcrafted by ADD's expert welders to exact specifications with laser-cut skid plates and tabs for a precise fit. That means there is no need for any cutting or welding during installation. The steel plate designs fit tightly to the lines of your JK Wrangler to complement its natural aesthetic. Many models also allow for multiple lighting and winch options to further customize it to your needs and lifestyle, whether it be for desert romping, rock crawling, or anything else. For those in the market for a rugged bumper that performs just as tough as it looks, the hammer black Stealth Fighter is the way to go.

5. Rockhard 4×4 Aluminum Patriot Rear Bumper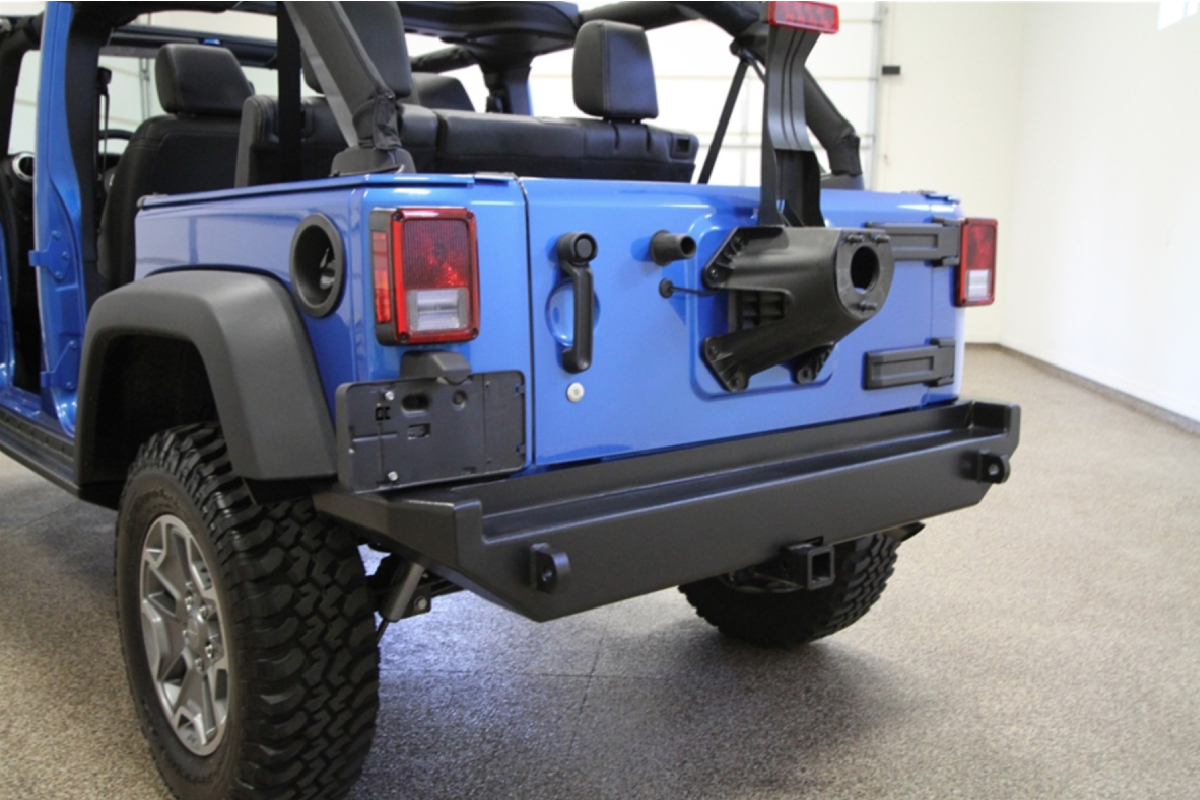 Rockhard 4×4 is very proud to offer the strongest and most agile aluminum rear bumper for the Jeep Wrangler JK on the market. The RH4x4 Rear Bumper is one of the brand's very own favorite products. Not only is it one of the only rear bumpers made out of ¼-inch thick aluminum, but it is also one of the highest ground clearance bumpers with the best departure angle. The endplates are specifically designed to offer the maximum departure angle and clearance to prevent you from getting "hung up" on tough trails and sharp off-camber turns. Furthermore, with oversized tires, rubbing and tire gouging will never be a concern again. The bottom plate of the Rockhard 4×4 bumper hugs the rear cross member behind your Jeep for more space than the competition.
On top of all that, this full-width rear bumper for the JK Wrangler weighs in at just 40 pounds! Designed to protect your Jeep's more vulnerable corner panels and tailgates, this rear bumper is practical and super rugged to offer the best balance of aesthetics and functionality. With the addition of Rockhard 4×4's rear bumper comes the opportunity to also protect your exposed and critical muffler. The brand's bolt-on RH-5047 muffler shield mounts to the existing holes on the rear bumper to give you a plate of solid ¼-inch aluminum armor. When your muffler goes, playtime is over and it's time to call a tow truck. This simple addition to your RH4x4 rear bumper gives you added peace of mind and increased capability to have a better time overall.

6. Smittybilt XRC Atlas Rear Bumper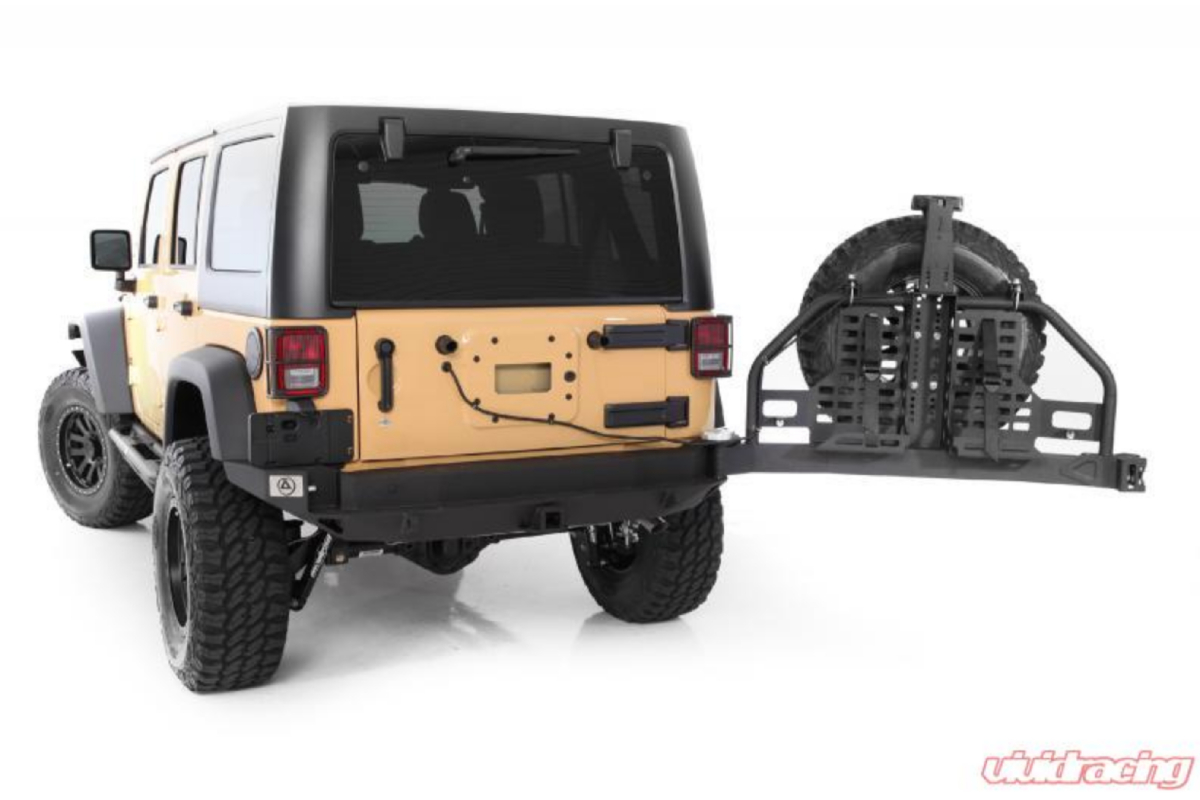 Transform the rear of your Jeep Wrangler JK with this super-tough Smittybilt XRC Atlas rear bumper. This bumper has undergone extensive design and testing to meet stringent international quality and safety standards. The result? A highly stylish and chiseled rear bumper that is also extremely strong and functional. It offers complete rear-end protection and impressive ground clearance with a capable tire carrier that can hold tires up to 37 inches in size for serious off-roaders. The bumper utilizes a new cam-style pin adjustment to ensure perfect gate stowing every time. Re-opening the gate is simple as well with the double latch eliminating any accidental openings. It also comes with a Class III hitch for heavy towing, a third brake light mounting bracket, and gas can and jack mount locations to help you stay fully prepared on all your trips.
The Smittybilt XRC Atlas rear bumper is built from cold-rolled, powder-coated steel in a rugged black color. It is 3/16 inches thick and designed to withstand major pressure to hold up extraordinarily well over time to all of the elements your Jeep Wrangler will encounter (i.e. weather, trails, debris). Installation is super simple and can be done with just a basic set of hand tools. The Atlas rear bumper locks right in place of where your JK Wrangler's original bumper was using the included hardware. Just torque the bolts down to firmly position it and you are ready to go.

7. DV8 Off-Road Black Rear Bumper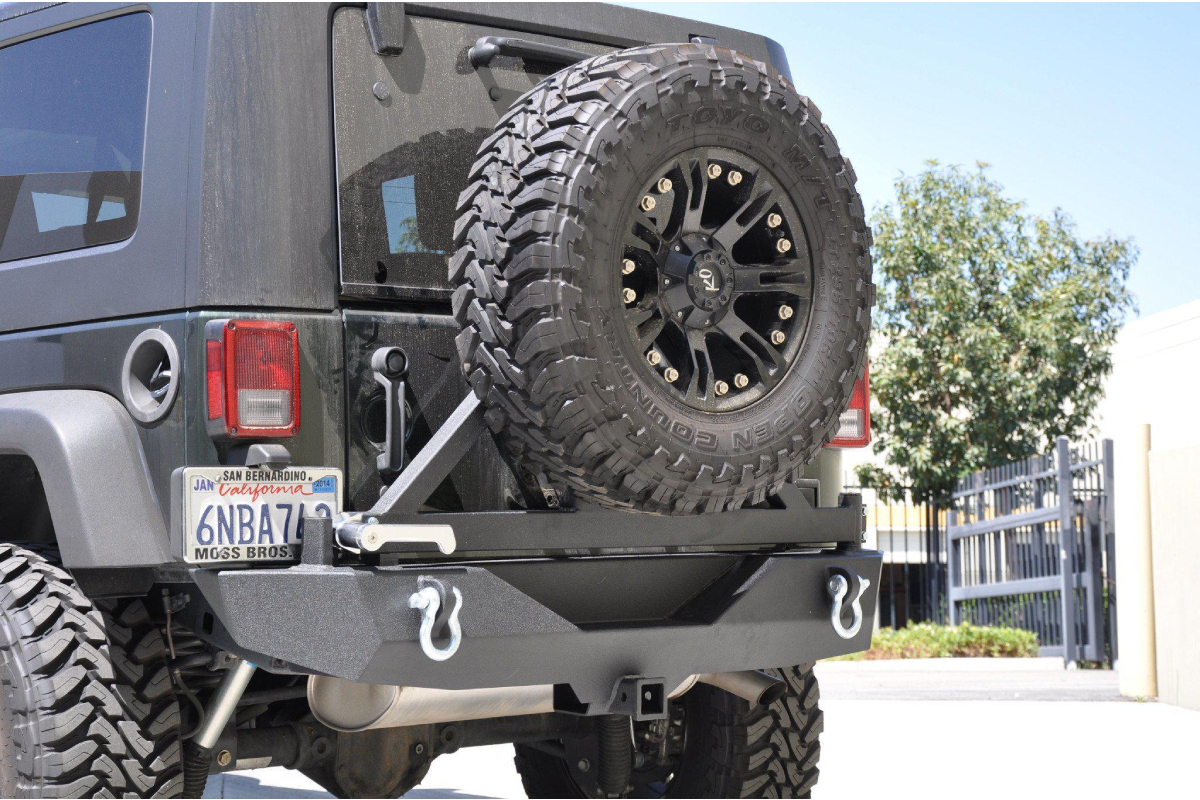 The DV8 Off-Road black rear bumper with tire carrier is perfect for those that want a trail-tested, heavy-duty, and attractive bumper to replace the stock one. This rear bumper features high angled corners to give you better clearance, D-ring mounts for extra recovery points, and a Class III-rated hitch. DV8 crafted this bumper from 3/16-inch and ¼-inch cold-rolled steel with .120 wall tubing to give you a solid line of defense from whatever obstacles the trails throw your way. Further protection comes in the form of a rugged wrinkle black 20-step powder coating which looks great and keeps your bumper newer for longer with UV resistance and ultra-durability.
This rear bumper is specifically designed with angled, raised corners to provide more clearance for higher degree inclines/declines out on the trails. The swing-out tire carrier with an aluminum handle for easy access is the icing on the cake in this package. All of the necessary hardware is included for an easy bolt-on installation without any modifications needed. So, if you are tired of banging up the fragile factory bumper, turn to DV8 Off-Road's heavy-duty rear bumper to keep your Wrangler JK protected against the elements.

8. ARB 4×4 Rear Bumper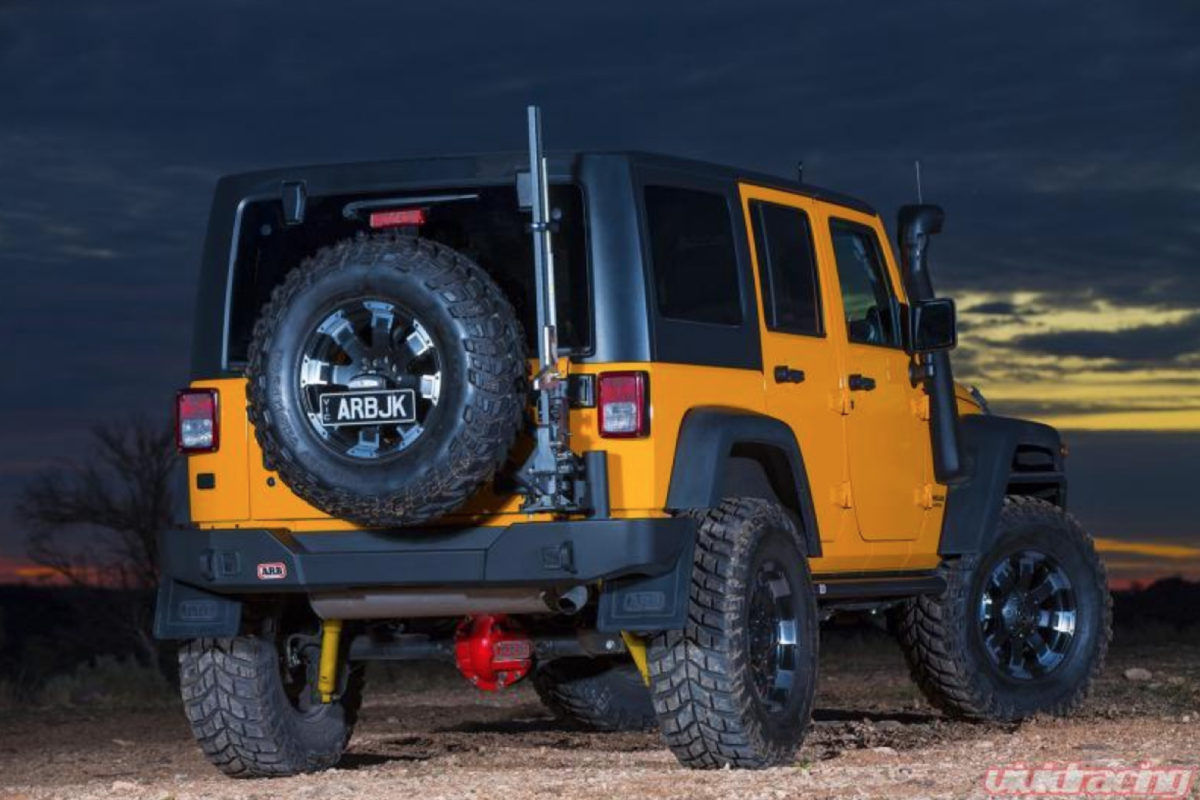 The ARB rear bumper for the Jeep Wrangler JK delivers incredible levels of protection for the back of your truck. Designed for maximum functionality with a recessed bumper section, dual Hi-Lift jacking points, and a heavy-duty towing system, this rear bumper is just as practical as it is attractive. In addition to the dual jacking and built-in recovery points, this rear bumper works seamlessly alongside the factory tow package. It incorporates a tire recess in the bumper to allow fitment of most 37-inch tires without the optional tire carrier and up to a 40-inch tire the carrier. It also features a low-slip tread plate in the center recess to provide easy access to the cargo area. The 'catchless' wheel carrier opens automatically when your Jeep's tailgate is opened and has adjustments for up to 1-inch body lift kits.
The ARB rear bumper is lightweight and carefully crafted from high-quality, durable steel for the ultimate strength. To further protect against corrosion and rust, this bumper is zinc coated and finished in ARB's Integrit textured black powder coating for an extra level of defense against the elements. This way, you can enjoy the outdoors without worrying about damaging your Jeep's rear. The innovative finish is blended with a synthetic PTFE and is highly successful in keeping your Jeep's back end safe from debris, salt, and other abrasions.