Rennline is an industry leader known for producing unique aftermarket motorsport accessories for German automobiles like Porsche, BMW, Audi, and Mini. Rennline designs and manufactures over 5,000 parts and accessories right here in Vermont. Products include everything from interior accessories to exhaust components, suspension upgrades, and everything in between.
Rennline is now pleased to announce four new products that boast protection, convenience, and style! Introducing the Documents Case, Oil Bag with Funnel, Jack Bag, and Tool Roll — products intended to maintain your interior and the gear you bring with you. These travel cases and bags will save you a lot of time and headaches when it comes time to find the necessary pieces. Take a closer look at each of these new items below.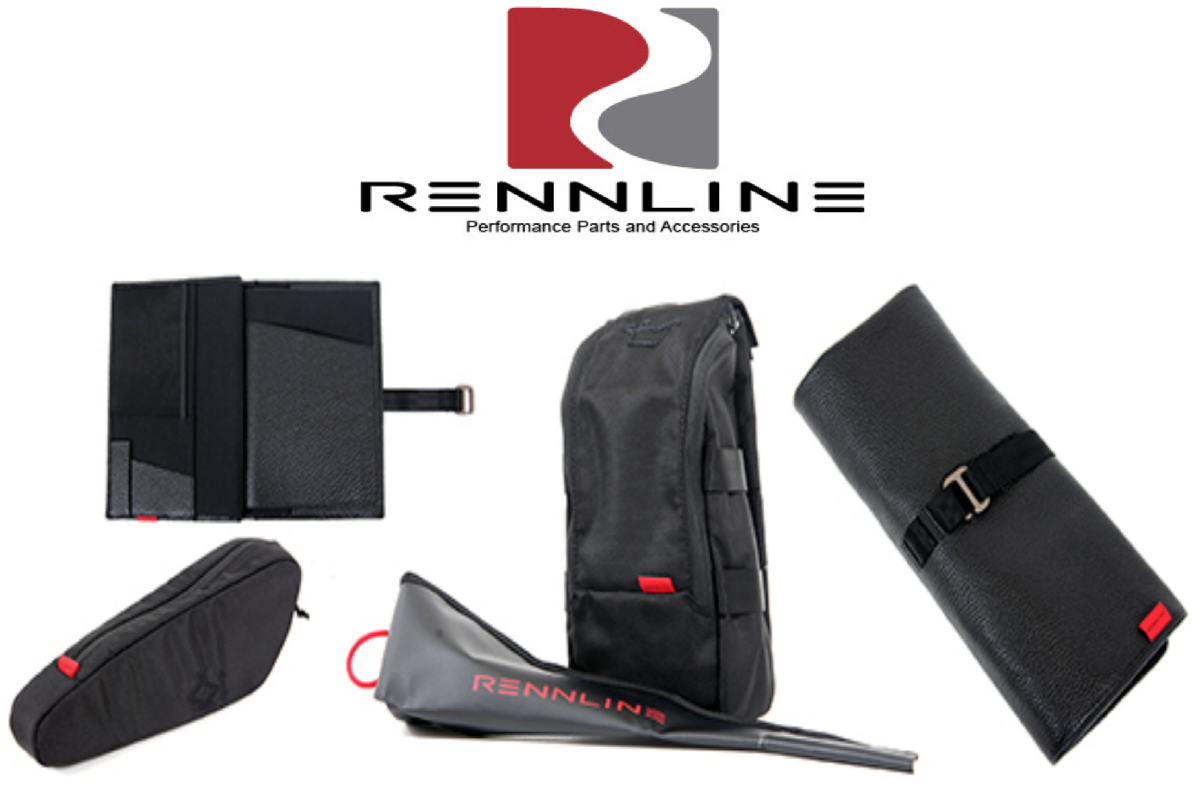 Leather Document Case
A quality car deserves a leather case to hold its manual, insurance cards, and any other documents needed when out on the road. This case features a variety of pocket sizes with an internal divider to organize your paperwork. It's crafted from genuine leather and includes a metal clasp with which to close the case. With the stylish and secure Rennline Leather Document Case, you can keep your documents safe and tidy.
Oil Bag with Funnel
With Rennline's new Oil Bag with Funnel, you will never run out of oil again! This bag makes topping off your oil a breeze. It features plenty of space for your oil can and includes a foldable funnel for added convenience. The velcro backing makes for easy storage too. Stay organized while preventing oil spills in your trunk with this handy oil bag and funnel.
Jack Bag
You certainly do not want to find your jack damaged, especially when it comes time to use it. That's where Rennline's new Jack Bag comes in. Protect your jack from bumps and bruises with this stylish case. It's also an ideal solution for keeping your trunk space safe from a rogue jack bouncing around and causing loud, unnecessary noises when you are driving.
Leather Tool Roll
Replace your factory tool roll with the new Rennline Leather Tool Roll. Crafted from genuine leather, this product was built with longevity in mind. The Rennline Tool Roll protects your instruments and provides an easy storage solution when you are away from the garage. Three zippered pockets offer secure housing for smaller parts, while a secure metal clasp holds the entire roll together. The included soft bag provides an additional layer of protection and prevents scuffs and scratches to your tools.
If you have any questions about Rennline or its products, please do not hesitate to contact us. You can reach us by phone at 1-480-966-3040 or via email at sales@vividracing.com.