This product is for Racing Competition only and is not legal for use in highway or street vehicles or other non-racing competition off-road vehicles.
Purchasing this product requires you to sign our Vehicle Compliance Waiver here.
AEM's Infinity Series 3 Programmable ECU platform is designed for popular early- and late-model throttle body and port injected Ford, GM and Mopar V8s. The Series 3 ECUs are simplified engine controllers designed to run a basic race, marine or crate engine without the need for, or cost of, additional features like variable cam control, Drive-by-Wire throttle control or internal wideband air/fuel sensor controllers.

The Infinity 308 (PN 30-7113) features two different injector types and two different coil outputs that support three different types of fuel and ignition configurations.

For throttle-body-injected (TBI) and GM multi-port fuel injected V8s the Infinity 308 includes a single direct-drive ignition coil output to work with a distributor and a single coil, and 2 peak & hold injector drivers that can drive up to four high-impedance injectors each. Other port injected and single-coil distributed V8 engines like the Ford Windsor can be controlled using the Infinity 308's 8 high impedance injector drivers and single direct-drive coil output.

For the Chevy LS, the Infinity 308 has 8 high impedance injector drivers and 8 ?smart? coil outputs to drive a coil-near-plug ignition system.

The Infinity 308 is a great upgrade for users looking to replace their older MEFI-4 system. This system also provides users with an upgrade path to sequential port injection and ?smart? coil-near-plug ignition. A Plug & Play Adapter harness to install an Infinity 308 on engines using MEFI controllers is available in our Plug & Play Adapter Harnesses section.


The Infinity's 200MHz processor and RTOS makes the Infinity more responsive, for a better driving experience
The Infinity's 200MHz processor and RTOS allows for more accurate ignition timing, which enables an engine to create more power
The Infinity's faster processor allows it to perform more computational features with no sacrifice in processing performance
The Infinity's RTOS ensures strategic processing with optimized load balancing. This means that tuning one feature will not affect the performance of another feature
Designed for the price conscious racer, the Infinity Series 3 incorporates all of the features necessary to run a high-performance engine including airflow-based VE tuning for fuel injection control, ignition control, Flex Fuel, knock control, boost control, nitrous control, launch control, wheel speed-based traction control and engine protection. The Series 3 is able to communicate with 3rd party dashes and loggers and is AEMnet CANbus enabled to easily communicate with other AEMnet equipped devices. All maps can be password protected. Its latest generation 200MHz processor can process 400 MIPS (Millions of Instructions Per Second).
Air/Fuel Ratio (AFR) feedback is supported by adding external wideband controllers through 0-5V analog inputs or via AEMnet CANbus using AEM's x-Series Wideband UEGO AFR controllers. An Engine History feature is included that records basic engine operating conditions including Run Time, Peak RPM (overrev), Oil Pressure/Temp Overheat (requires sensors, sold separately) and Lean Condition (Boost/Vacuum vs AFR). All of the parameters of the Engine History feature are user programmable.
Both systems feature a small, thin footprint (7.35" x 6.55" x 1.8"), lightweight (29.9oz/848g) and 73-pin connectors. The Infinity Series 3 enclosure is fully sealed and the connectors are IP67 rated (dustproof, waterproof to 1 meter) making the Infinity suitable for engine bay mounting.
Features:
Airflow model based calculations
VE-based engine startup
Multi-fuel capable
Flex fuel compensated fuel, ignition and boost with blend
Multiple boost control strategies (time, gear, vehicle speed, switch and more)
2-step programmable launch control (3-step with Advanced Tuning Package)
Programmable traction control, 2-wheel speed
No-lift shift
User configurable soft-cut rev limiters
User configurable anti-lag
Map switching (4 Separate ignition maps, 4 separate Lambda target maps, 2 separate VE tables)
Single stage wet or dry nitrous control
Integrated engine protection strategies
Target Lambda table, 10x10
Open-loop fuel pressure compensation
O2 lean-out protection
2-channel adaptive knock control
Configurable coil dwell (RPM, voltage and load based)
Individual cylinder ignition trim (RPM based)
Individual cylinder fuel trim (RPM based)
3D ignition trim maps (coolant and air temp)
Real-time sensor diagnostics
Ignition table, 20x20
VE airflow table, map vs. engine speed, 20x20
User adjustable charge temperature blend (CLT/AIT, engine speed dependent)
Idle control (stepper and pulsewidth)
Specifications:
2-Stroke Engines: N/A
4-Stroke Engines: Yes
Cylinders: Up to 8
High Impedence Injectors (Sequential): 8
Low Impedence Injectors (Sequential): 2
Coil Drivers (0-5V Falling Edge): 8
Coil Drivers (to drive "Dumb" Coils or CDI): 1
VR/Mag Inputs: Up to 2
Analog Voltage Inputs: Up to 9
Analog Temp Inputs: Up to 3
Knock Control: 2-Channel
On Board Wideband Air/Fuel Controllers: N/A
Drive-By-Wire: N/A
H-Bridge Channels: N/A
High Side Outputs: N/A
Low Side Outputs: 10
Low Side Outputs that can be PWM: 7
4-Wire Stepper Motor Control: Yes
CAN Channels: 1
RS232 Channels*: 1
Boost Control (RPM, Time, Gear, VSS, Switch Input, Flex Fuel Content): Yes
Variable Cam Control: N/A
Engine Protection**: Yes
Launch Control: Yes
Nitrous Control: Single Stage
Traction Control: Up to 2-Wheel Speed
Data Logging: Basic Engine History
Weather Resistant Sealed Electronics: Yes
Connector Pins: 73
Enclosure Dimensions: 7.35" x 6.55" x 1.8"
Weight: 29.9oz / 848g
Proposition 65

WARNING: Cancer and Reproductive Harm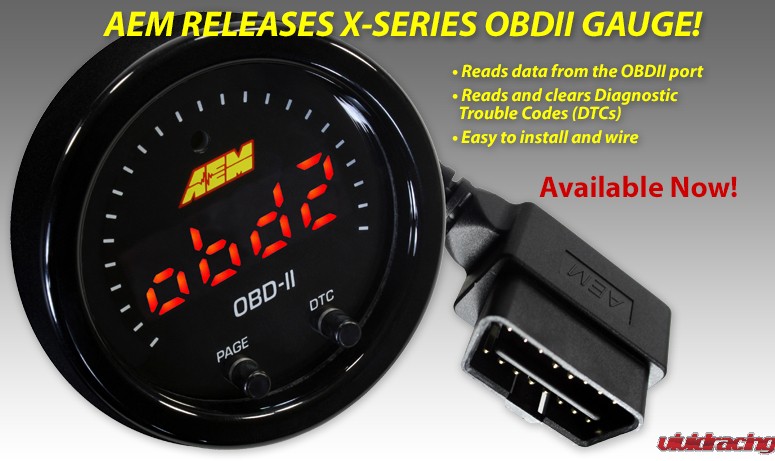 Who is AEM?
AEM is an aftermarket company and was founded by John Concialdi and Bob Sullivan back in 1987. The company specializes in providing performance upgrade parts for various automobiles.


It initially catered to vintage vehicles and modified imports used for street racing. By the early 1990s, it has already established itself as a top modifier and has been chosen by racers day in and day out.
Today, AEM has remained at the forefront in the industry and has since provided the best air intake products in the market.
Racers Choice
The company rose to success because the cars fitted with their products won actual races. AEM has been a brand synonymous with fast cars and has been used by import racing legends such as Abel Ibarra, Adam Saruwatari, Tony Fuchs, and more.
The Tradition of Continuous Innovation
AEM has always been a pioneer in setting trends when it comes to aftermarket performance parts. They were the first to offer a packaged air induction system. This paved the way for the 'do-it-yourself' upgrade for most import vehicles.
They also pioneered the design of intake tubes with specific tube lengths and diameter, and coined the phrase Cold Air Intake when they saw the advantage of having cooler air for the engine.
Some other innovations they did were the conical air filters with built-in air horns, dual-chambered intake kits, a unique bypass valve that prevents hydro locking, hybrid induction systems, and electronically tuned air intakes.
This shows how AEM has always pushed the boundaries of air intake design in search of more horsepower.
Tried and Tested
All of AEM's products are tested by various independent and 3rd party companies and prove that their products produce the power they claimed, which helps them cement their status as industry leaders.
Purchase AEM at Vivid Racing
If you are in search of a quality aftermarket intake system for your vehicle, AEM has got you covered. With a track record of providing only the best, they are a company you can surely trust. Visit Vivid Racing and check out the list of products that would fit your specific need.
AEM Performance Electronics warrants to the consumer that all AEM Electronics products will be free from defects in material and workmanship for a period of twelve months from the date of the original purchase. Products that fail within this 12-month warranty period will be repaired or replaced when determined by us that the product failed due to defects in material or workmanship. This warranty is limited to the repair or replacement of the AEM Electronics part. This warranty applies only to the original purchaser of the product and is non-transferable. All implied warranties shall be limited in duration to the said 12-month warranty period. Improper use or installation, accident, abuse, unauthorized repairs or alterations performed by the user on any AEM Electronics products voids this warranty.

In no event shall this warranty exceed the original purchase price of the AEM Electronics part nor shall AEM Electronics be responsible for special, incidental or consequential damages or cost incurred due to the failure of this product. AEM Electronics disclaims any liability for consequential damages due to breach of any written or implied warranty on all of its products.

Warranty returns will only be accepted by AEM Electronics when accompanied by a valid Return Merchandise Authorization (RMA) number and a dated proof of purchase. The product must be received by AEM Electronics within 30 days of the date the RMA is issued. Warranty claims to AEM Electronics must be shipped to us prepaid (we recommend a shipping service with package tracking capability). Once your package is received by our warranty and repairs department you will be notified and provided with updates.