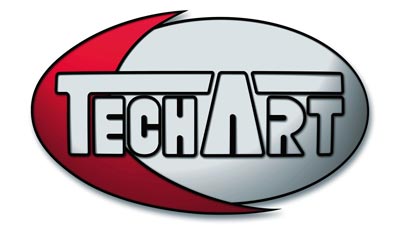 Who is TECHART?
TECHART was founded in May of 1987 right in the heart of Porsche country, halfway between Weissach and Stuttgart in Germany, and the company was started by an aerodynamicist and a businessman with the idea of fusing technology with art to create automotive masterpieces. Now, its headquarters houses an impressive range of the brand's latest products, with everything from full cars to miniature models to give you an idea of exactly what TECHART is about.
TECHART has become known as the international premium brand for the individualization of Porsche models. The company is driven by the highest demands on competence, design excellence, advanced technology development, and a responsible attitude toward emotion and reason. Furthermore, TECHART is a registered auto manufacturer, identified by its own WMI (World Manufacturer Identifier).
About TECHART Today
Today TECHART offers complete tuning conversions for the Porsche Boxster (986, 987), Porsche 911 (993, 996, 997), the Porsche Cayman, and the Porsche Cayenne. This includes lightweight aluminum alloy wheels, sport exhaust systems, performance enhancements, sport suspensions, and wind-tunnel-proven aerodynamic parts. TECHART's extensive interior program ranges from brushed aluminum and factory-matched carbon trims to a variety of stainless aluminum and leather accessories.
All TECHART products are manufactured in Germany with the core principle being OE manufacturing quality. They are produced in-house from only the highest quality raw materials using high-precision tooling and computer-aided development processing and guarantees trouble-free installation and servicing. TECHART also boasts verification of material functionality and crashworthiness as all components have undergone track testing to secure its performance and ensure its everyday usability. TECHART's consistent quality parts and innovative solutions helped make it one of the most recognized Porsche tuners around!
Today, TECHART offers a wide range of Porsche specific products for nearly all models of modern Porsche. They offer suspension, exhaust, intakes, aero, carbon fiber, trim, chassis bracing, and full packages. To put it simply, they are your one-stop-shop for all things Porsche!
FIND TECHART at Vivid Racing
No matter what you are looking for, TECHART has you covered with genuine German-made parts for your Porsche. This includes everything from tantalizing exhaust systems that provide impressive gains; stunning aerodynamic kits that provide boast and function; alloy wheels that take your vehicle's look to the next level; and a wide range of carbon trim packages to customize the interior.
Vivid Racing carries an extensive selection of TECHART products like mirrors, springs, Coilovers, strut bars, sway bars, mufflers, and more! If you have any questions regarding TECHART or any of its products, please do not hesitate to call our expert sales team at (480) 966-3040.