1968-1973 Mopar B/C/E Body Big Block Aluminum Performance Radiator. MT Cars. Fits some of the following. Double check dimensions
70-73 Barracuda BB
68-73 Belvedere BB
68-72 Coronet BB
68-73 Road Runner BB
68-73 Satellite BB
These COLD-CASE radiators are Tig welded 100 percent aluminum and absolutely beautiful. Don't buy a 3 or 4 row aluminum radiator! It doesn't cool as good as these oversize 2 row models.
These radiators are original appearing and have the correct stamping. Once painted, you'd be hard pressed to find a difference over an original versus a COLD-CASE.
100 percent TIG welded
All Aluminum
(2) 1.25 inch Tubes
Polished OE style tanks
16 fins per inch
Corrugated fins that give more surface area and more thermal transfer
Pressure tested
For manual trans
Old Part Number: RPE753
Radiator Specs
Core Height 16 inch
Core Width 21.2 inch
Overall Height 21.37
Overall Width 25.5 brackets
Overall Thickness 3 inch
Tubes (2) 1.25 inch Tubes
Upper Hose 1.50 inch
Lower Hose 1.65 inch
Fitment:
Dodge Coronet 440 1968-1970
Dodge Coronet 500 1968-1970
Plymouth Satellite Sport 1968-1970
Plymouth Belvedere Satellite 1968-1971
Dodge Coronet R/T 1968-1970
Dodge Coronet Deluxe 1968-1970
Dodge Coronet Super Bee 1968-1970
Plymouth Satellite 1968-1973
Plymouth Road Runner 1968-1973
Plymouth Belvedere 1968-1971
Plymouth Barracuda 1967-1973
Dodge Coronet 1970-1972
Plymouth Barracuda Gran Coupe 1970-1971
Dodge Coronet Brougham 1971
Plymouth Satellite Brougham 1971
Dodge Coronet Crestwood 1971-1972
Dodge Coronet Custom 1971-1972
Plymouth Satellite Regent 1971-1973
Plymouth Satellite Sebring 1971-1973
Plymouth Satellite Sebring Plus 1971-1973
Plymouth Satellite Custom 1971-1973
Dodge 880 1962-1965
Chrysler 300 1962-1965
Chrysler New Yorker 1962-1965
Chrysler Newport 1962-1965
Plymouth A-Body 1967-1969
Dodge Dart 1967-1969
Dodge A-Body 1967-1969
Proposition 65

WARNING: Cancer and Reproductive Harm
Make

Vehicle

Model
Submodel
Year
Engine
Notes
1968-1972
Dodge Coronet


Coronet
1968-1972
1970-1973
Plymouth Barracuda


Barracuda
1970-1973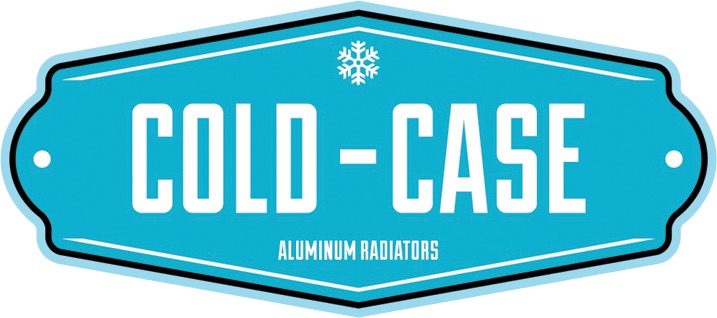 About Cold Case Radiators
Cold Case Radiators is a division of Max Performance Inc, a leading supplier of automotive restoration parts and accessories. Founded in 2014, Cold Case was born from a need for fairly priced high-quality aluminum radiators. Max Performance is not new to the game, though; it has been supplying the classic car market for over three decades now. Cold Case Radiators was merely launched as its brand of performance aluminum radiators and accessories. The brand has a strict no-compromise approach, as it does not sacrifice quality despite its reduced prices. There are no cutting corners with Cold Case. The brand stands firmly behind its extensive research and high-quality products and backs them all with a limited lifetime warranty.
Why Choose Cold Case Radiators?
Each Cold Case radiator is made from 100 percent TIG-welded aluminum for longevity and to ensure it won't fail under high pressures. An aluminum radiator is also significantly lighter (42.7 percent) and has 30 percent more material thickness than its copper counterpart. Cold Case Radiators' big two-row core design with 1.25-inch tubes is the industry's best.
Every model is professionally built to be a direct fit and comes with OE-style stamped and polished tanks. For a cleaner look, Cold Case Radiators are manufactured with welds on the inside of the tank, rather than the outside. Cold Case Radiators guarantees that you are getting a drop-in radiator ready to perform in even the toughest condition. All of its radiators are a direct fit and not universal. They are also available with or without automatic transmission coolers.
Cold Case Radiators at Vivid Racing
Keep your engine running cool and looking great with quality aluminum performance radiators and accessories from Cold Case Radiators! Specifically designed for the muscle car market, each Cold Case radiator spotlights two oversized cooling rows for optimal cooling performance. Vivid Racing offers a wide variety of Cold Case Radiators and accessories, including oil coolers, hoses, badges, shirts, and more! If you cannot find what you are looking for, please give our sales team a call at (480) 966-3040.
Warranty
Only at Cold-Case Radiators&reg will you see not only a Lifetime Warranty, but also a 60 Day COOL Guarantee. If your Cold-Case Radiator&reg doesn't keep your car or truck cooler than your previous radiator, send it back for a refund.
All radiators manufactured by Cold Case are guaranteed to be free from material and workmanship defects for the lifetime of the radiator. Cold Case's 60 Day Cool Guarantee applies.
To activate your warranty, the purchaser must register the purchased product on the Cold Case website. Failure to register the product will void the warranty.
Modifying the design or function, or subjecting this product to abuse, misuse, mishandling or unauthorized repair voids all aspects of the warranty and return policy.
To submit a warranty claim, you must obtain a return authorization by filling out the form on our website, e-mailing, or calling our offices. Once received and inspected, we reserve the option to repair or replace the radiator.
Cold Case also reserves the right to replace any product that has been discontinued from its product line with a new product of comparable value and functionality. If a radiator of comparable value and functionality is not available, Cold Case may offer an upgraded model and require the customer to pay the difference in price between the radiator originally purchased and the current retail price of the radiator being substituted. Radiators may be returned at any show we attend provided a pre-return authorization is obtained. The radiator may also be shipped to Cold Case. All return and replacement shipping costs are the responsibility of the purchaser. Radiators must be clean and flushed before shipping back. Under no circumstances will Cold Case perform call tags or reimburse for shipping costs of any radiators.
60 Day cool guarantee- If you install your radiator and feel it is not cooling your engine properly, contact Cold Case. A Cold Case staff member will try and diagnose possible reasons for the lack of performance. If a viable solution can't be proposed, Cold Case will accept the return of the radiator and a full refund (less shipping) will be sent.
This warranty is not transferable or assignable. Any and all costs to remove and/or replace a warranted product are not covered by this warranty, including the shipment to and from Cold Case for the replacement.
In addition, loss of vehicle, rentals and/or towing expenses are not covered. Other than the warranty described above, all Cold Case products are sold "AS IS" and no other warranty is implied. At any time, the terms of this warranty are severable.
Cold Case recommends using a green 50/50 coolant mixed with distilled water. Using other mixtures may void the warranty. Installation and filling radiator with coolant deems acceptance of the product. It is the owner's responsibility to mock and test fit before installing in the vehicle.